Here are some pictures of my router build in progress: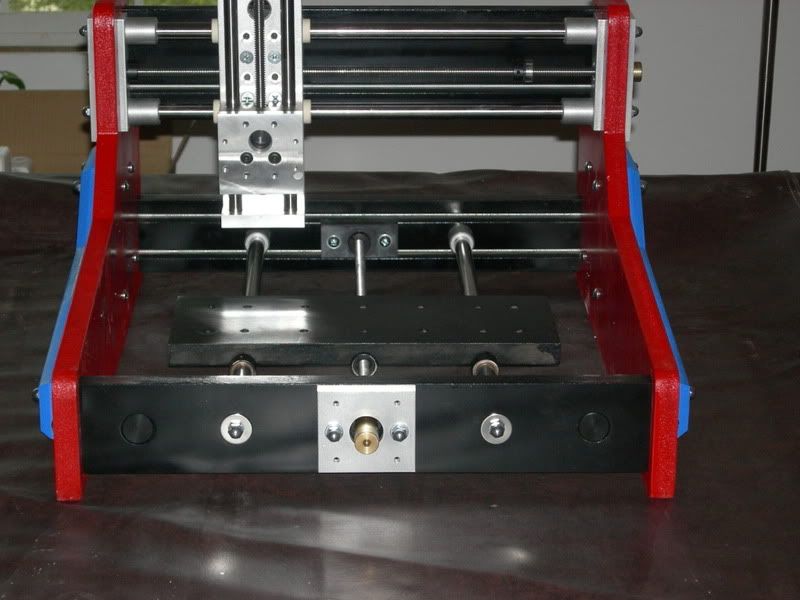 It is 03:30 here and I have everything wired up except the parallel printer cable to the controller, LOL. But it was time for a beer, and I wanted to keep my track record of not having "let the smoke out" of any of the bits yet ;-) I will work a bit more tomorrow afternoon, and hopefully have some pictures (or a movie) of the spindle mount moving around (the "spindle" (router) won't arrive till Monday or Tuesday, LOL, so for now the machine will just "move around" LOL!
I was really worried about my selection of colors because I have near-ZERO visualization skills, and everyone I asked said, "That is too many colors." But I went ahead with Red, Black, Blue and Yellow. I think it looks good, but as my 20 year-old son pointed out: "Dad, this thing makes a lot of dust and mess, right?" To which I responded, "Oh yea!" Then he said, "Well dad, you paint it any color you want, all people will see is the dust and mess." LMFAO.
Anyway, I am excited. I guess it is silly; I have waited over 20 years to own a CNC machine and now I want to make it look good before I "cover it up with dust", lol. I wanted to point out to my son, "If I hadn't been busy paying for prep-school and college I would have simply bought what I wanted 10 years ago, Smart-A$$." LOL. But all is good, I couldn't be happier.
FIsh
Fish